Forza Tesori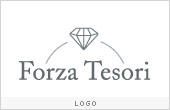 Titanium may not have magnetic features. However, a Forza Tesori titanium bracelet exerts an extraordinarily magnetic power over anyone catching even a glimpse of its smooth lines. Allowing all that elegance to pass virtually unnoticed would have been a waste of exceptional resources. That's why Forza Tesori found itself in the need of a complete branding of its products, which would arouse brand awareness and ensure positive perceptions.
The corporate requested our brand consultancy services, challenging us to design the corporate overall architecture, which would convey and harness its extraordinary potential. Forza Tesori has style and attitude written all over it. Therefore, so does our client's brand identity: it is precisely elegance and tastefulness which pervade all segments of the corporate image.
The logo, featuring a diamond, is simple yet very suggestive. Reinforcing the brand's refined personality, the logo is another proof of aesthetic integrity and symmetry. The diamond's straight lines connote strength, durability and the corporate upright principles, whereas the oblique ones evoke openness and forward-thinking.
Since the products seem to be speaking for themselves, the corporate website has a relatively minimalist, simple structure, which spotlights the distinctiveness of the bracelets.
The intuitive, client-centric graphic interface substantiates the clarity and utility of the website, which encompasses products display, review and preview, e-commerce and secure online transaction options. Moreover, a display of the last bracelet visualized is embedded in the site structure and is designed to optimize purchase operations.
Success also devolves on consistent brand management and marketing strategies. Back-end operations are thus essential. By means of a thorough and coordinated content management system, we have succeeded in enhancing the corporate organization of documents and transactions. Through a graphical interface, our back-end system offers our client the possibility to alter the content and website structure and to access detailed statistics about the visitors.
Internet advertising campaigns, including banner design and placement on some of the most popular portals, have actually promoted and emphasized the class and reliability associated with the brand. As a result of our exquisite design and well-conducted promotion strategies, the corporate now breaks away from its wide competition.
The implementation of the vibrant, eye-catching brand identity elements on brochures, business cards, flyers or catalogs has successfully contributed to the entrenchment of the corporate fashionable and reliable personality.